Swile is also compatible with Apple Pay !🎈 You can now use mobile payment and Apple Pay in your favourite restaurants or supermarkets.
A simple, secure and confidential means of payment ✌
Why Apple Pay?
Make contactless payments securely with Touch ID and Face ID (depending on your iPhone model). Link? 
Each transaction generates a unique code and uses a number unique to your device. Your device or Apple servers do not store your card number. It is not transmitted to your merchant when you make payments. 
How do I install the option?
We show you everything on video 👇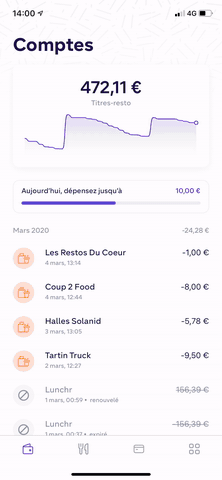 Go to the Swile application (which you have just updated) 💪
Click the tab

and then click Add to Apple Pay. 
Enter the validation code you just received by sms. You will be redirected to your Wallet to enter your Swile card numbers.
Accept the terms and conditions
Select the verification mode on which you wish to receive the confirmation code (phone number or e-mail).
Then enter the code that you have received (by sms or e-mail, depending on the communication channel you have previously entered).
Tadaaa! The Activated Card screen appears 🎉! You can start paying with your Swile card via Apple Pay