How do my reservations get validated? How much can I spend? Learn all about your company's travel policy!
1. Before you book
One of your managers has added you to a team on our Swile Business Travel platform, with all or some of your colleagues.
Your manager has then defined rules for validating your reservations, applicable to all members of your team: this is your travel policy.
For all your train, flight and hotel reservations, the travel policy defines whether :
All your bookings request will be subject to validation
Only those above a certain budget
None: you are 100% autonomous and need no validation
2. During your booking
While searching for a booking on Swile Business Travel, the fare will be displayed in black or red if each booking option is above or below the budget defined in your travel policy: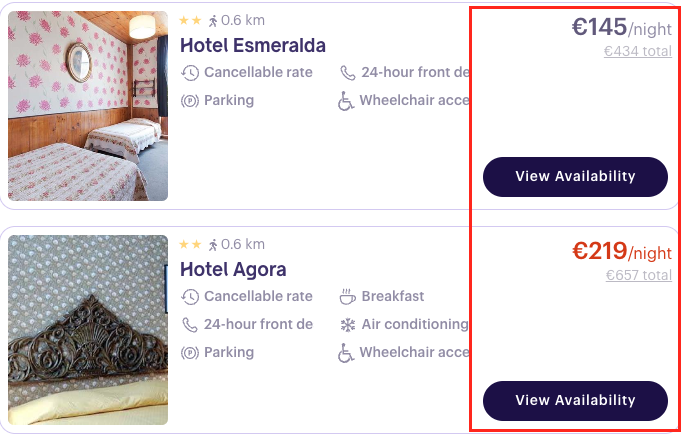 This is only an indication. You can always request a reservation at a rate considered to be above your budget.
3. Validate your reservation
To validate your booking, you will need to :
Add the reason for the trip. This code appears on the invoice we send to your company to help your accounting colleagues.

Justify your choice
Choose the billing entity for this booking. Only if your managers have given you access to several.
You will need to provide this information just before confirming your request 👇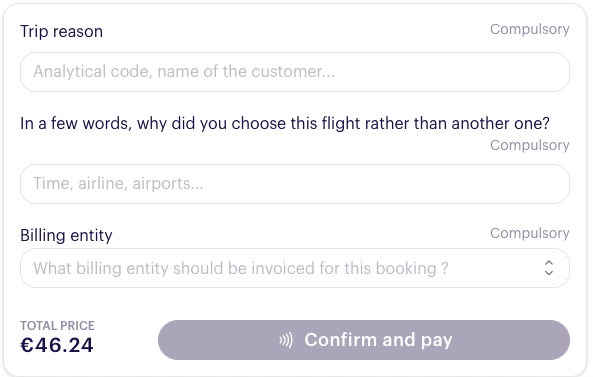 You don't have to do anything else! Payment will be made by bank transfer, by your company. You can say goodbye to expense accounts 💸
4. What about my invoice?
An invoice with your reservations and those of your colleagues is sent to your company on the 28th of each month.
If you need an invoice for a particular booking (for example, to re-invoice a client), just ask us by chat or via our application form.
5. After your booking
According to the travel policy defined by one of your managers:
If your booking request does not require validation: you will receive an email confirming your booking within seconds or minutes after clicking on Pay Booking.
If your request requires validation: the validator(s) of your team will receive an email inviting them to validate your booking request.
Your booking will then be on hold 👇

If your validator has not validated your request within 24 hours, please contact them again. Prices and availability can change very quickly, especially if you book shortly before the trip!
Once the request has been validated, the booking will be made and you will receive your confirmation email.