From your Swile Business Travel account, you can easily cancel your train tickets, partially or totally, for one or more passengers!
1. From the My reservations section:
Find your reservation from the following sub-sections:
My trips: if you are one of the travellers
Team trips: if this trip concerns your team (accessible to validators and administrators)
Trips I booked: if you have booked the trip you wish to cancel yourself

🔎 Select the train journey you wish to cancel.
You will be taken to a page like this one, containing your booking information: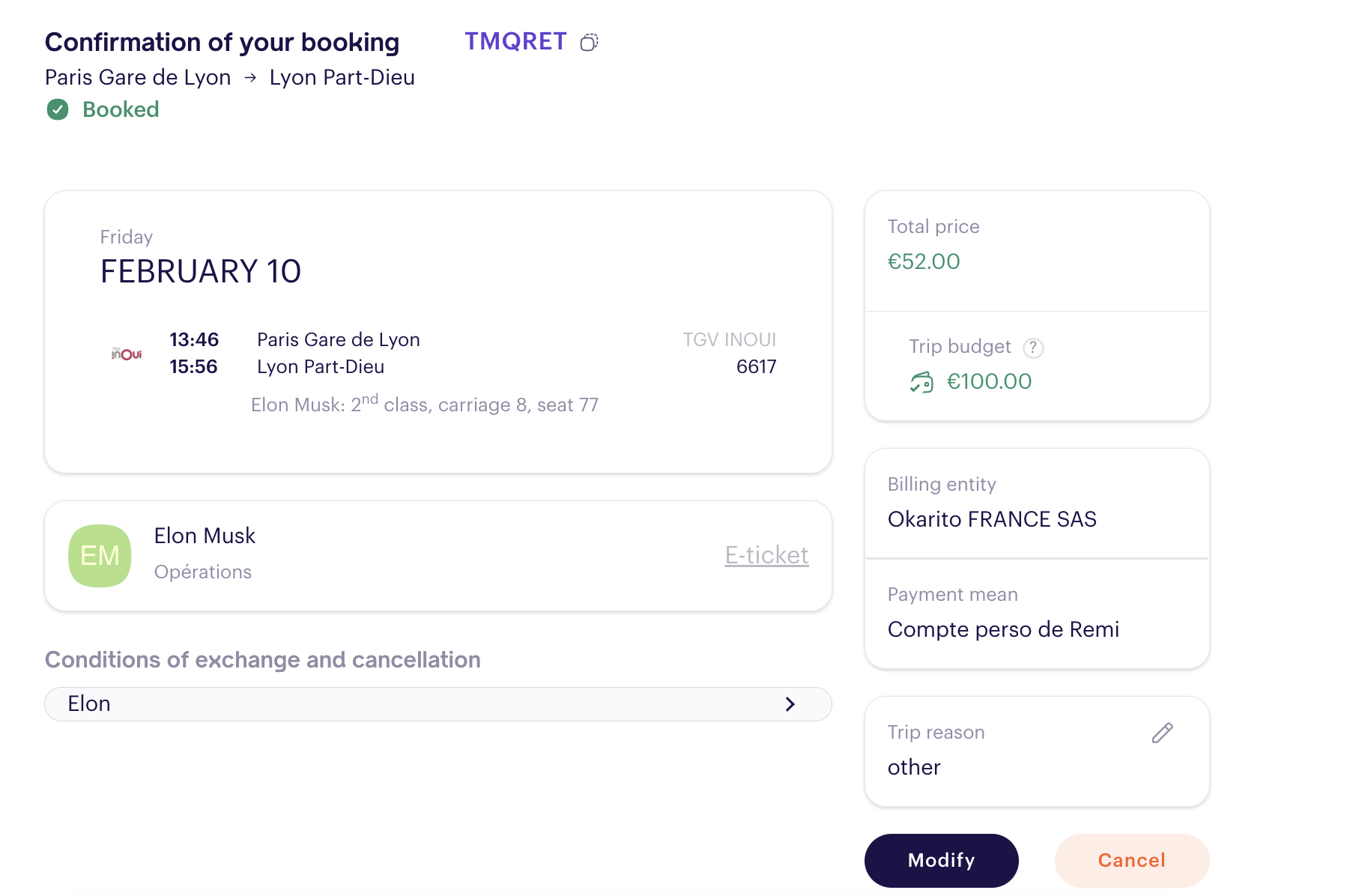 2. Cancelling your ticket
Once on the reservation, click on Cancel.
⚠️ ATTENTION: once the cancellation has been confirmed, there is no going back. You will have to search again and buy new tickets if you cancel it by mistake.
A window like the one below will open. You can either :
Cancel the trip for all or some passengers, if the fare conditions allow it.
Cancel either the outward, return or round trip of the same passenger.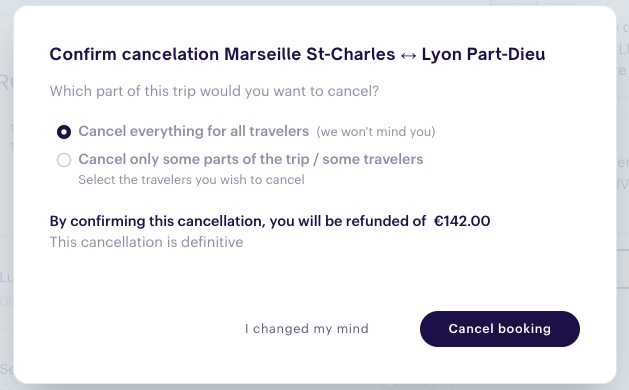 Check the desired box(es). The refund price is displayed if your booking is refundable.
Click on Cancel booking to confirm the cancellation and refund.
3. Can I cancel my ticket with the SNCF?
Yes, but it is really recommended to go through Swile Business Travel if your request is not urgent.
By phone, on 36 35 (no surcharge)
On the TGV INOUI application
At a white or yellow SNCF terminal in a station
At a ticket office, SNCF shop or station. If a ticket office clerk refuses to accept the ticket on the grounds that it is a "travel agency" ticket, insist. Your Swile Business Travel agency is an official reseller and the SNCF is obliged to cancel it if you request it
4. What happens to my refund if I have cancelled my ticket with the SNCF?
Since Swile is the one who processed your ticket payment, SNCF will not be able to refund you. But we can 😊
On the other hand, the SNCF will not notify us of this cancellation. You will therefore have to send us a message by chat or via this form, specifying your booking reference and the subject of your request. We can then finalise your refund 💸.
⚠️ You have 1 month maximum to contact us after an SNCF cancellation. After this period, we will no longer be able to refund you, as the file will have disappeared from the SNCF reservation database.