Would you like to know how to use your credit or voucher for a new booking? You've come to the right place!
As a result of the Covid-19 health crisis or some other event, one of your flights has been cancelled and the airline has offered you a voucher (i.e. a credit note or credit) instead of a direct refund. This voucher can then be used for future bookings.
1. Where can I find my vouchers?
If you are a validator or administrator on Swile Business Travel, you can access all the vouchers of a team from the Team's Vouchers menu 👇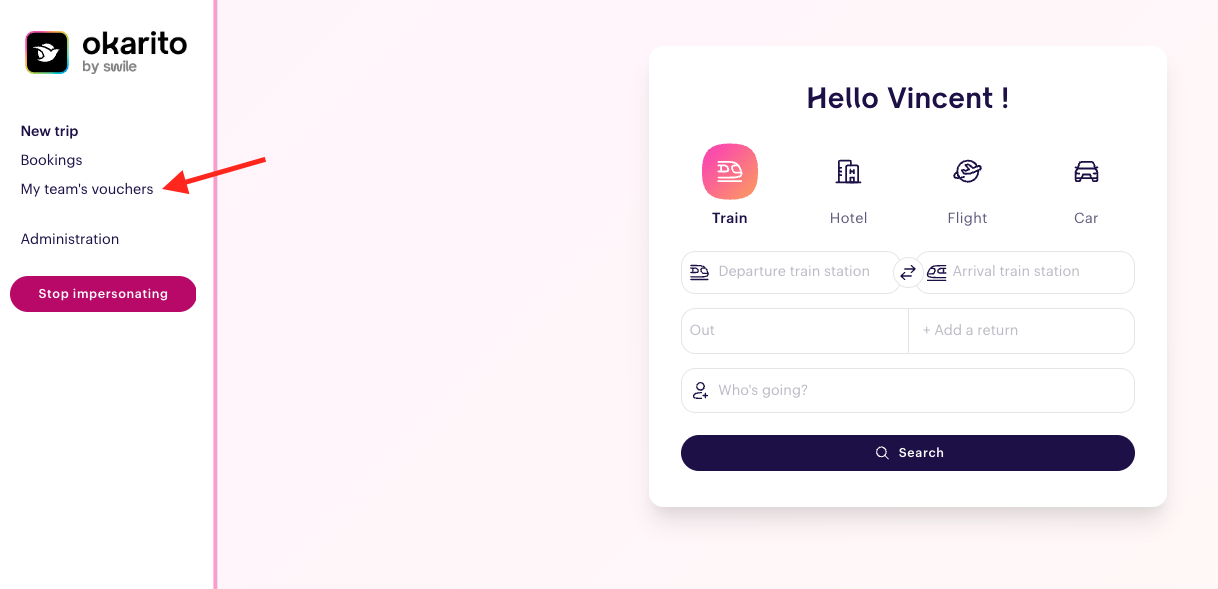 If you are a user and wish to consult your own vouchers, do the same thing, but this time from the My vouchers menu 👇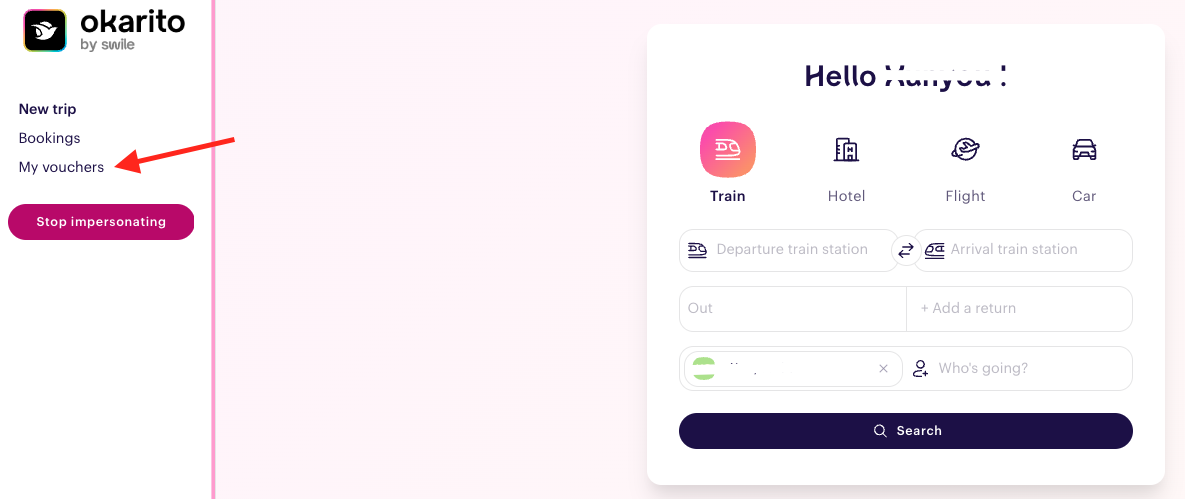 In both cases, you will be taken to the page for consulting your vouchers 👇

This page is updated after each use of a voucher:
If you only partially use a voucher amount, the new remaining amount will appear on this page.
If the entire amount of a voucher is used, the voucher will disappear from this page.
If neither of these two menus appear, it means either :
Your voucher, or that of a member of your team, is not yet available. The menu does not appear when no voucher is available.
It is also possible that you are not a validator or administrator, and therefore do not have access to your team's vouchers.
2. Using a voucher
Start your flight search from your Swile Business Travel profile as you are used to do. When you get to the booking completion page, you will need to indicate that you have a voucher to use with this airline and for this traveller, in the Note to Swile agent, as below 👇

3. Proceed with the booking
Once you have added the note to the agent, you will only need to fill in the other booking fields and click on Confirm and Pay.
⚠️ ATTENTION: by clicking on Confirm and pay, the reservation will not be made immediately and the total price indicated will not be debited.
Indeed, your request will have to be processed manually by a member of our team (so don't worry if it takes longer than usual) who will :
deduct all or part of your voucher from the amount to be paid for the new flight. If the amount of the new flight is less than the amount of your voucher, the remaining voucher amount will be updated on your Swile Business Travel profile, once the booking is made;
will come back to you if the amount of the new flight is less than the amount of your voucher, or if the conditions of use of the voucher do not allow its use. We will give you the final amount to be paid before confirming the payment of the booking if you tick the box "Call back to validate any cost...".
For any further information about vouchers, please contact us by chat or via this form and specify the subject of your request.