You have received a car rental quote and you want to understand all the details?
1. Important information:
Here you have several important elements:
A reminder of the pick-up and drop-off locations (here: Bordeaux Gare Saint Jean).
The status of the reservation: the quote is awaiting validation. If it suits your needs, you will have to validate it.

Important information for collecting your car on arrival. Here, for example, 4 elements are contractually obligatory to collect the car, be careful if only one of these elements is missing, you will not be able to collect your car, and you will have to cancel your reservation. It is impossible to negotiate at the counter. All items must be in the name of the main driver.
2. Car model, rental company and price :
In this second section you can find information about the car model and the rental company.

The vehicle model is indicative: we can give you a similar car. The total price indicated on the right is the price that will be charged by Swile when the quote is confirmed. It does not include any extras purchased at the rental counter.
The prices of certain extras are displayed on Swile Business Travel, in particular :
Young driver fees
Drop-off charges or one-way charges, if you pick up the car at one location and return it somewhere else
If your company has defined a maximum budget per day, you will find it under the reservation price.
3. Information on pick-up and drop-off times and locations :
In this third part, you are reminded of the dates, times and locations of the pick-up and drop-off.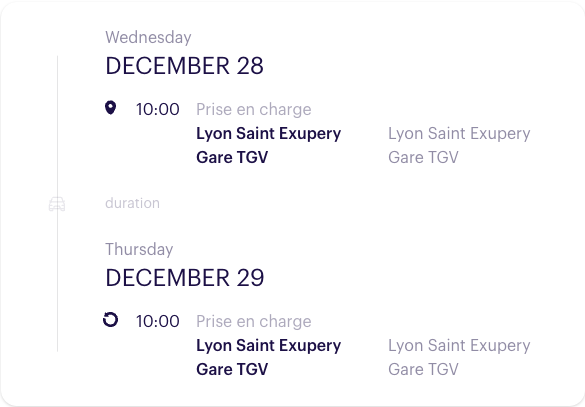 Be careful when choosing your pick-up times, any delay of more than 20 minutes can lead to the cancellation of the reservation by the rental company without any possibility of reimbursement!

4. Information on the contract :
In this fourth section, you will find important information about your contract, relating to the excess buy-back, the mileage included in your contract and the cancellation policy.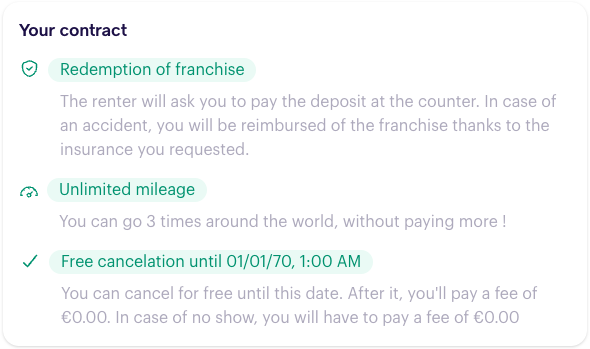 Excess buy-back: In a few words, there is always an insurance included in your contract (you will never be asked to reimburse in full the Mercedes Class S that you have just put in the port of Marseille). But this insurance has a deductible (an amount you have to pay in case of an accident) which can be high. If you break the car, you have to pay this excess. Our partner Allianz reimburses you for this excess with the excess buy-back insurance.
Mileage: your rental contract may be unlimited mileage, which means you can drive as much as you want. It can also include a certain number of kilometres, with an additional cost per kilometre above this limit. For example, if my contract includes 500km with a price of €0.39 per extra kilometre, and I return the car with 600km on the clock, €39 will be charged to my credit card (because €0.39 * 100 = €39).
Cancellation: All vehicles booked on Swile Business Travel can be cancelled up to 48 hours before the start of the booking. Between less than 48 hours and the start of the contract, a fixed amount will be deducted from the refund. If you do not show up at the agency, you can cancel your reservation by contacting our customer service, and you will be charged a no-show fee. The remainder of your booking will be refunded.
5. Validation of the quote :
As with all bookings on Swile Business Travele, you can then indicate (if applicable) the payment method and billing entity for payment, as well as any other information required by your company (reason for the trip, analytical code, explanation in case of budget overrun).