Like any user of the platform, an administrator can book trips, consult his reservations and modify the information in his traveller profile.
He then has the following advanced rights, applicable to all users and all teams in his company:
Invite employees to the platform or create an account for them.
Edit a user's traveller information or delete a user.
Add, modify or delete a team.
Modify the travel policy of a team.
Manage the validator role of each team.
Add, edit or delete a billing entity.
Add, edit or delete a payment method.
View all travel bookings.
Add or remove the Administrator role for a user (see below).
How do I add or remove Administrator rights?
With great power comes great responsibility. Any administrator can add or remove this role from users in your company.
From the Administration Menu, go to Admins 👇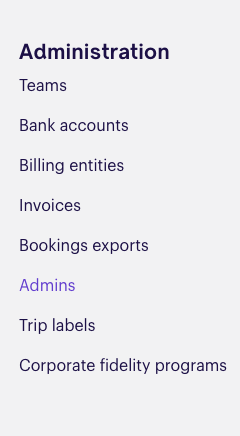 From here you can :
* Click on New administrator to appoint a new one.
* Click on Remove role, to the right of a current administrator's name to remove that role.