Like any user of the platform, a validator can book trips, view their reservations and edit their traveller profile information.
The role of validator can be added or removed from any user in your company. You can have several validators in the same team.
The user then has the following advanced rights for all teams for which he is a validator:
Validate or not the booking requests of his colleagues according to the travel policy of his team defined by an Administrator. For each request, validators will receive an email inviting one of them to validate or not a colleague's booking request as soon as possible.
Consult the travel policy of your team. Via the menu My teams > Click on your team > Travel policy.
Consult the reservations of other team members. Via the Team trips menu
Create an account for a colleague who will join your team. Via My Teams > Click on your team > Members > New user.
Edit the travel profile information of your team members. By clicking on a user from Members.
Remove a user from your team.
Promote or remove the Validator role from another user in your team.

How do I add Validator rights to a user?
If you are a validator: go to the My Teams tab, click on your team and then click on the Travel Policy submenu.
If you are an administrator: go to the Administration tab, click on the team you wish to work in, then on the Travel Policy submenu.

To promote a user in a team to the role of Validator, click on the ➕ icon in the Validators area at the top of the screen ⬇️

To remove this role, click on the initials of the validator and confirm the action.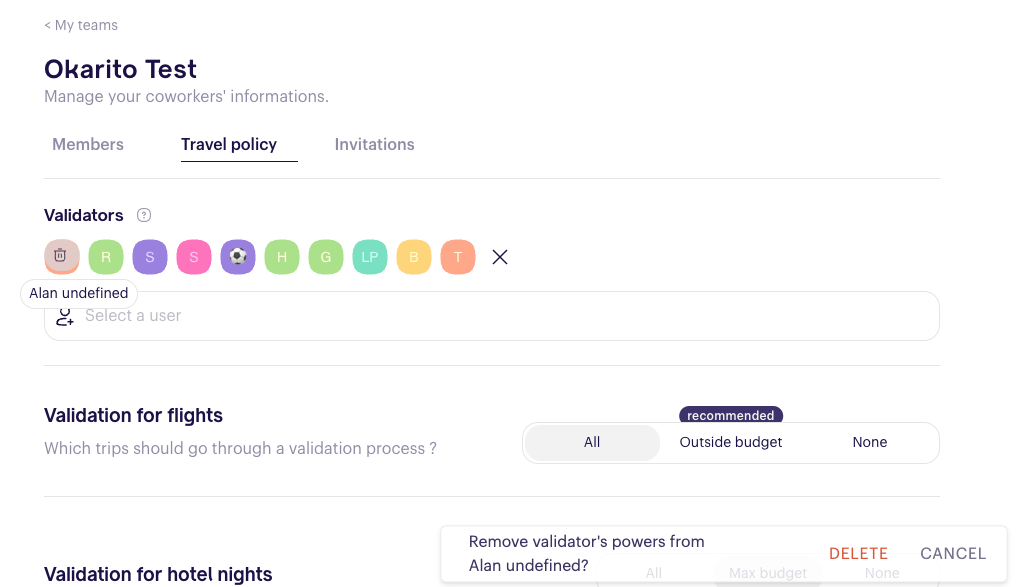 ☝️A team must always have at least 1 validator. It is impossible to remove a validator if it is the only one in a team. You will need to appoint a second one before removing the rights of the first.