With your Swile account, you have a do-it-all wallet just for you. It lets you access various features: participation in collections, payments between colleagues and all other expenses.


What is it for?
This is a personal wallet that you can access directly from your Swile account, on a computer and on the mobile app.
Once credited, you can use it to reimburse your colleagues, receive refunds and participate in collections.
Transferring funds to your personal account is only possible from the mobile app.
Please note, it is not possible to credit your personal account with meal vouchers or gift vouchers, but only from your own bank account.


How to get there:
You can manage your personal account directly from a computer and the Swile mobile app, by logging into your personal Swile account.
Log in to your account, then at the top of your screen click on "my account", then on the "personal account" tab on the left.
Open your Swile mobile app, go to the first wallet tab, then access "personal account" at the top of your screen.

How to credit it:
To credit your personal account, go to the first tab of your Swile app, then click on personal account at the top of your screen.
Enter the amount you want to credit. Select your payment method or fill in the requested information, then confirm.
The amount is automatically credited!

How to spend:
Money transfers, collection participation and reimbursement to colleagues are currently features only available from the mobile app!
First, go to your Swile app in the accounts tab. Select personal account then click on payments, enter the amount to transfer and validate.
By adding your bank details, you can transfer the amount within 2-3 business days.
Good news! You can now spend the money in your personal account using your Swile Card.
It's easy! Whether it's meal vouchers or gift vouchers, if you exceed the amount of your benefits or want to spend at merchants that aren't eligible, your personal account will pick up the rest!
And that's not all... If you no longer have a balance in your personal account, the top-up option will allow you to pay the overcharges, which will be debited from your bank account Example below 👇: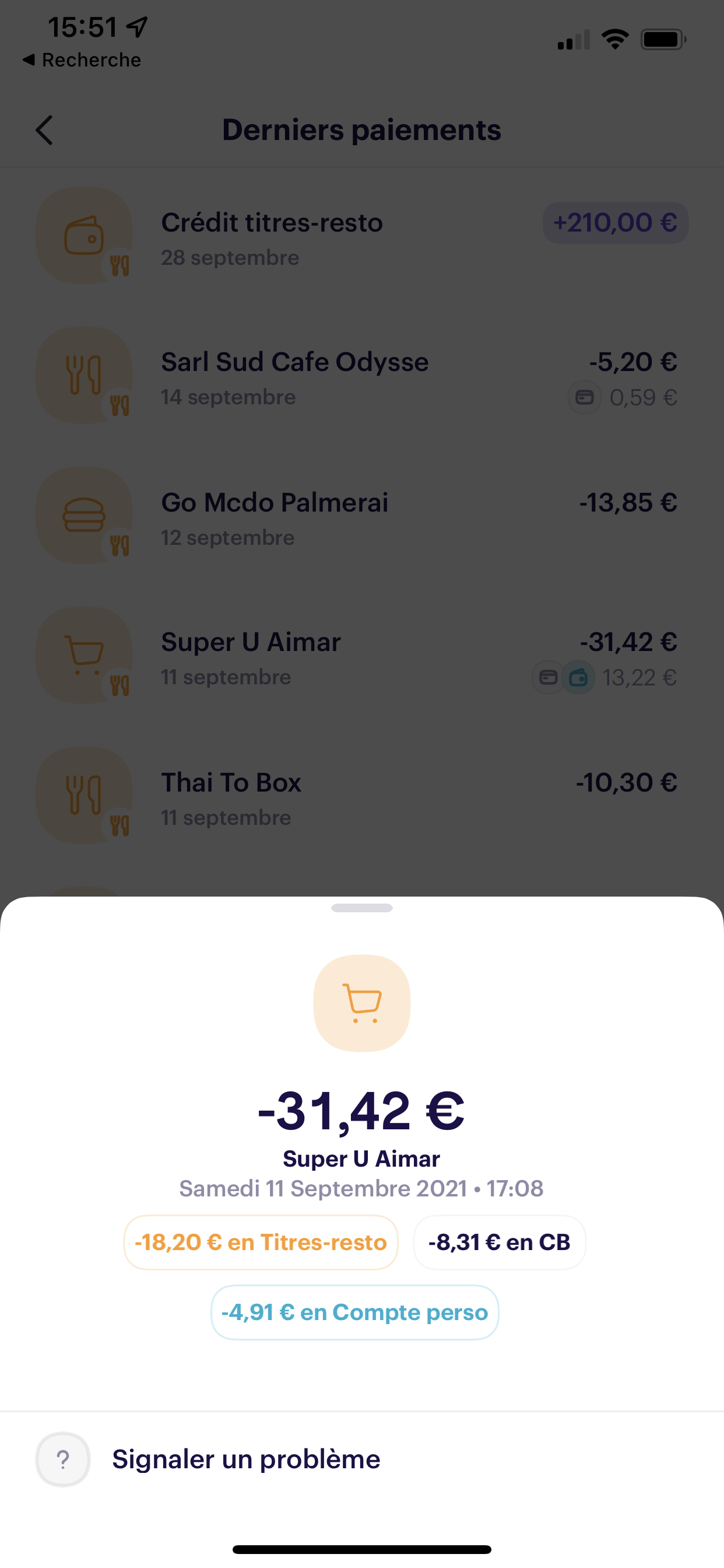 Here, our user spent €18.20 on meal vouchers, (which corresponded to his remaining daily balance since he had already used his Swile Card that same day), €4.91 was therefore debited from his personal account (now empty) and the rest on his bank card with the top-up option. Isn't that nice?
Reminder, to pay with your personal account, you must verify your Swile account.

Be careful though, to pay with the funds available on your personal account, you must have your Swile account verified. Everything is explained right here 🎉!